T-Stand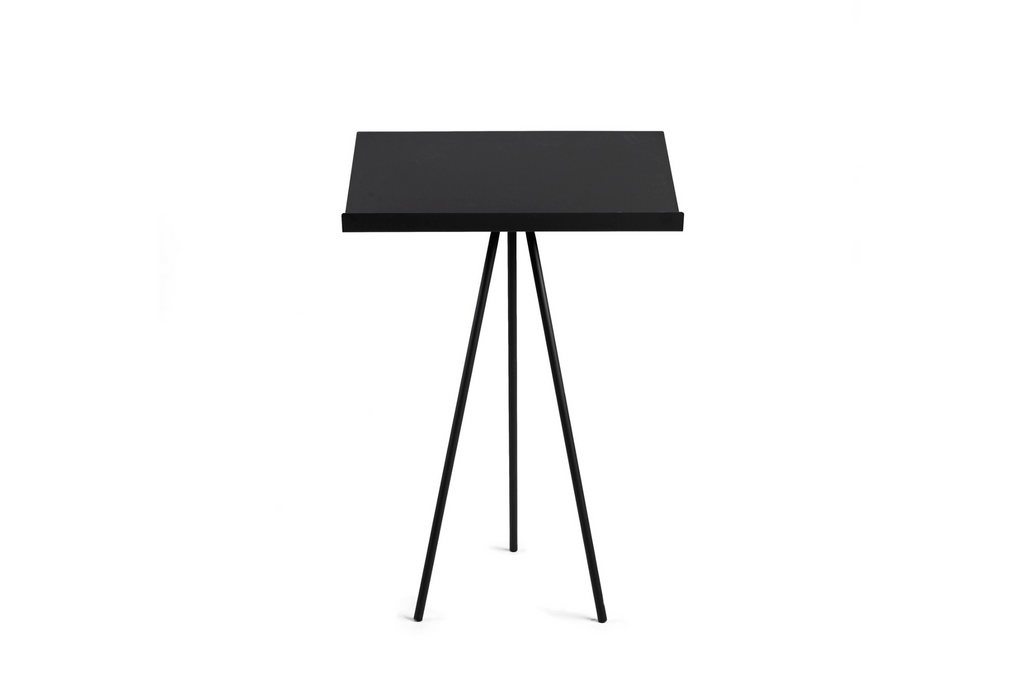 ⋄ Gift wrap possible by checkout
⋄ Express delivery possible in checkout
⋄ Ships twice a week
T-Stand by Bastiaan Woudt
T-Stand designed by Bastiaan Woudt is a large-format book stand - the perfect solution for displaying big books or Fine art portfolios. Several years ago, Bastiaan Woudt began making handmade collector's boxes containing a book and prints. Since these are more difficult to place in an interior, and it's a shame not to give them the attention they deserve. Therefore, Bastiaan Woudt designed a tripod bookstand that perfectly meets this need. The result is the T-Stand or art book holder, and as the name suggests, the big brother of the V-Stand. Bastiaan Woudt is proud to offer this stand through 1605 Publishers.

Publisher:
 1605 Publishers | 
Design:
 Bastiaan Woudt | 
Material: 
Steel

Color:
 Black Matt | 
Size:
 111x76x49 cm

Check another beautiful bookstand in black steel: V-Stand
Customer Reviews
30/11/2022
Gabriel B.

Netherlands
An elegant stand for our photo books
Great addition to our newly bought apartment. We were aiming for a more sophisticated/minimalist interior and the stand was a perfect fit for it.
03/08/2022
Anja B.

Portugal
Amazing and elegant
The T-Stand is the perfect element for displaying books. Not only it is beautifully designed, it is also very easy to ensamble. This book stand adds elegance and refinement to whatever room it is placed.
04/04/2022
Samantha B.

United Kingdom
Not received my item
Also had to pay £180 tax on top of £850
30/11/2022
1605 Collective
Dear Samantha, Thank you for your review. We have tried to contact you several times regarding the item, however, we didn't hear back. We have also contacted postal services and they confirmed that the item was delivered. I would guess that there was a slight delay in the delivery and the stand had eventually reached you. Regarding the tax is unfortunate, there is no guarantee from our side about this and at the moment, due to Brexit, the rules in the UK are a little stricter than usual. Thank you one more time for understanding and we wish you a wonderful day.